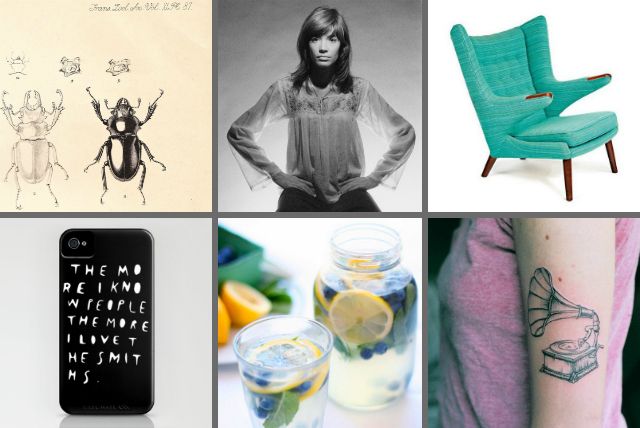 clockwise:
1.
Carambas Natural History Prints
This shop is full of awesome vintage entomology lithographs for all us insect lovers.
2.
Françoise Hardy's Comment de Tire Adieu
An album to play through this "Summer-in-March" that New Hampshire's been experiencing.
3.
Mid-Centuria
It's easy to spend too much time on this blog drooling over the Mid-Century Modern furniture.
4.
Phonograph
I can't seem to find out who this is a picture of, but I wish I knew because I want to be friends with whomever has that tattoo.
5.
Blueberry Mint Lemonade
Let's fill a big pitcher with blueberry mint lemonade and go sit on the stoop in the sun for the rest of our lives.
6.
Society6 iPhone Case
"The more I know people the more I love the Smiths." Yeah, exactly.